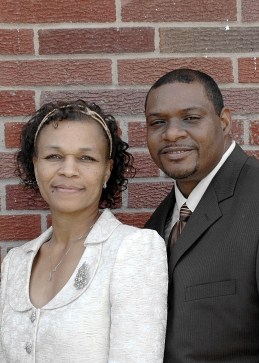 Pastor & First Lady Donald E. Smith Jr.
Rev. Donald E. Smith Jr. is the pastor of Antioch Missionary Baptist Church of Chandler, Texas and has been the sheppard of this flock for ten (16) years. He is a man of Prayer, a man of God, a man of Faith, and a man of "The Word."

During his leadership thus far Pastor Smith has implemented and completed two phases of a three part vision that he was given for our church. In the first two phases our Pastor's vision came to pass with the remodeling and repair of different areas of the church. The third and final phase that is in progress is the building of a new sanctuary and conversion of the current one into a family life center which is projected to be done the first quarter of 2010.
Also under Pastor Smith's leadership we have had a growth in membership and ministerial staff to our flock. The growth has consisted of youth giving their life over to our Savior for the first time, members who have returned and rededicated themselves to their Christian walk, and members coming and joining from places other than the surrounding communities.
Pastor Smith is currently the Moderator of the Christ Centered Baptist Association. He holds a Bachelor's degree in Agriculture and

Psychology

, two Master's degrees in Psychology and

Religious Studies

, and a Doctorate degree in Biblical Studies. He is married to Tabetha Smith and has seven children; Danielle, Shanetha, Tre, Dawn, Delaney, Daley, and Danica.

When the Lord sent us Pastor Smith to us, He also sent us a virtuous woman and colaborer in ministry in our First Lady Tabetha Smith. She is an inspiration to the youth as well as the adults. Sister Smith holds a Bachelor's & Master's degree in Christian Counseling. She is a willing worker in any ministry that needs her cooperation and participation and also works to compliment her husband's ministry. She is active as the organizer of the women's fellowship and praise dancers,Sunday School teacher for the teen class,member of the Voices of Antioch,and countless other endeavors. She is currently the Minister Wife's President for the Chirst Centered Baptist Association.
Service, sincerity, compassion, commitment, faith, and persistence are all terms that describe Pastor and First Lady Smith. Above all, their goal is to make a difference in the community and the world they live in, and to serve their Savior to the fullest.